Cains Brewery Liverpool redevelopment by the Irish Pub Company and McNally Design
Our team at McNally Design and the Irish Pub Company are delighted to be working with the Mikhail Hotel and Leisure Group again on their largest development yet!
Our team at the Irish Pub Company initially started working with entrepreneur Andrew Mikhail on a new Irish Pub brand for his portfolio – Punch Tarmey's. Since we began working with Andrew we have designed and built two Punch Tarmey's, created Khepri Nightclub in Southport and are delighted to be working with Andrews's team again on the Cain's Brewery site in Liverpool.
CAINS BREWERY LIVERPOOL REDEVELOPMENT BY THE IRISH PUB COMPANY AND MCNALLY DESIGN.
~  ~  ~  
LARGE PROJECT AT CAINS BREWERY:
This large project has over four phases with phase one well under way on site. Phase one will include the third Punch Tarmey's, the Quarter Hoop and a Brewery Hall – all designed and manufactured by our team at McNally Design and the Irish Pub Company.
The Quarter Hoop bar will have a capacity for 120 people and the large Brewery Hall with a capacity of 400 will be created alongside Punch Tarmey's Irish Bar and the existing Brewery Tap.
Our design team at McNally Design and the Irish Pub Company have worked hard to ensure that the Cain's brand is revitalised in an exciting way, yet at the same time ensuring that the history of both the brand and the listed building are worked into the design in obvious and subliminal ways.
The building at Cains Brewery has offering both challenges and huge potential in terms of designing and building bars, pubs and live music venues inside! There is even a well down into a lake that is 40 ft long and 12ft deep! As Andrew Mikhail said: "It's an astonishing building and that's why we've put together such a bold scheme. There's two cavernous tunnels running through the site that we will be converting into two live music venues."
~  ~  ~  
CAINS THE ICONIC BRAND:
Brewing stopped at Cains in 2013. The McNally Design and Irish Pub Company team are honoured to be a part of the revitalisation of the building and the iconic brand that is Cains.
"Cains Brewery and Liverpool are such iconic brands and Cains of course is part of the city's heritage," said Mikhail. "After speaking with Cains' former managing director Sid Dusanj for around six months, he told me he was delighted to pass on the Cains' brand to someone who is so passionate about the Brewery Village scheme and the city. "Cains is a resilient brand just like Liverpool and we're really excited to be bringing Cains Brewery back, albeit with a new direction that will bring national attention to Liverpool for all the right reasons." (Insider Media)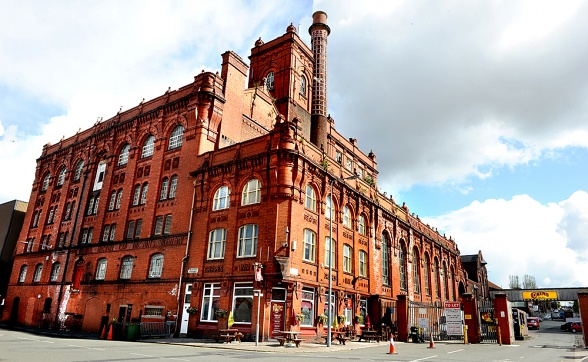 CAINS BREWERY LIVERPOOL REDEVELOPMENT BY THE IRISH PUB COMPANY AND MCNALLY DESIGN.
~  ~  ~  
IRISH ROOTS AND PUNCH TARMEYS:
Speaking to St Helens Star newspaper, Andrew spoke of his Irish roots. When our team at McNally Design and the Irish Pub Company first met Andrew a couple of years ago, it was these Irish roots that formed the identity for the Punch Tarmey brand, our first design and build project with the Mikhail Group.
Speaking about the development at the Cains Brewery to the St Helens Star Mikhail said "For example, we're going to create one of the biggest Irish bars in the industry that will be sports-led, include brewery tours, lots of customer interaction with a child-friendly, family-friendly vibe."
"The Cains Brewery deal is both a professional and personal dream come true for me especially because of my Irish roots. My great grandfather was a renowned bare-knuckle fighter nicknamed Punch Tarmey, the name that gave birth to an existing portfolio of bars we own and operate in the region. Plus, my dear nan was such a hard-working, humble Irish woman who came from nothing and saved every penny to see her family were ok. I know she'd be feeling very proud right now as we all are and we can't wait to maximise the potential of this development at Cains Brewery. It's a really prestigious win for us."
~  ~  ~  
CAINS BREWERY LIVERPOOL REDEVELOPMENT BY THE IRISH PUB COMPANY AND MCNALLY DESIGN.
SCOPE OF IRISH PUB COMPANY SERVICES FOR THE CAINS BREWERY LIVERPOOL  REDEVELOPMENT:
• Concept Design
• Detailed Design and Coordination with main contractor for site works
• Handcrafted Joinery and Millwork
• Bespoke Wall and Ceiling Finishes
• Specialist Artwork and Graphics
• Custom Made Glass and Signage
• Custom Made Flooring
• Fittings and Fixtures; custom made lighting, furniture, metalwork
• Project Management
• Fit Out on site by our specialist team
All our pubs and bars are designed and handcrafted in Ireland by the leading and award winning Irish Pub Design Company and McNally Design International which is led by Mel McNally in Ireland, Simon McNally in the Middle East and Darren Fagan in the USA.
Dublin: +353.1.293.4300